Marketing
All Travel Nevada marketing efforts are built on a result-driven strategic program that compels consumer purchase decisions through effective use of key marketing and sales avenues. Our in-house team leads a fully-integrated enterprise that delivers finely-honed messaging to various research-anchored audiences via a wide array of traditional and cutting edge channels.
Travel Nevada's marketing team works in collaboration with our agencies of record for a variety of crucial services including media buying, brand creative work, and digital development.
Travel Nevada.com, the state's award-winning tourism marketing portal, is a content-rich hub for discovering and planning visits to Nevada. The website creates an immersive experience for travelers in the "dreaming" and "planning" stages while encouraging action to book a trip. It's also a valuable resource for tourism industry partners, with user-generated business listings that connect trip-planning users directly with the businesses, lodging, vendors, events and other tourism outfits.
---
Public Relations
Travel Nevada is guided by a research-driven domestic and international marketing approach, achieving its marketing and communication goals for the Nevada brand through a robust educational program that combines laser-pinpoint messaging with stories that bring the Nevada brand to life in a compelling way. The agency focuses on crafting messages most salient to each of its audiences, and reaches them through traditional media outreach and targeted social media influencers, developing stories that educate, inspire, and excite travelers and stakeholders.
---
Industry Development
The Travel Nevada domestic sales effort is targeted to two key audiences: travel trade and consumer, with the majority of the effort directed at the trade.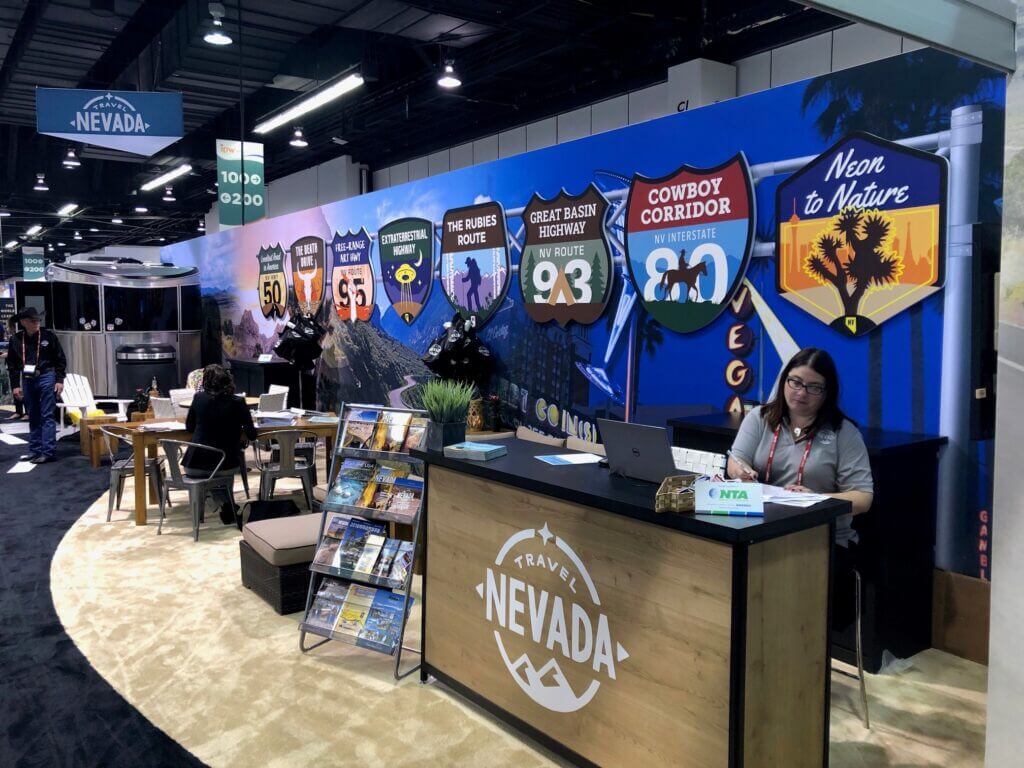 Travel Nevada operates a year-round effort designed to sell the state to tour operators, travel agents, and wholesalers who offer product that includes Nevada and/or the western United States. Outreach is conducted through a variety of channels including trade shows, hosting in-state FAM trips, and in-person meetings with buyers.
Travel Nevada maintains a presence at Travel and Adventure shows. While the return on investment of consumer shows is not as high as other marketing outreach. attending these shows in key markets offers an opportunity to combine sales outreach with sales attendance. While in these major markets, Travel Nevada conducts one-on-one meetings with buyers with a focus on those who can help enhance air service to the state.
---
---
In-Market Familiarization Tours
Travel Nevada hosts immersive in-state familiarization (FAM) tours for the travel industry (tour operators, wholesale partners, agents, buyers, etc.) and media. These trips bring our guests face-to-face with Nevada's thrilling diversity of destinations. In addition to expanding our visiting groups' awareness of the touristic gems our state has to offer, these trips allow our industry guests to experience first-hand the people, cuisine, businesses, and other local attractions, and to create memories they can take home to their own business partners and customers in their respective markets.
FAM trips may be either hosted or individual, but in all cases, Travel Nevada is committed to ensuring these visits are of the highest caliber and meticulously professional.
These activities require an immense amount of planning and on-site hosting and thus will have Travel Nevada personnel involved as requested and required to ensure a stellar experience. With limited staffing, Travel Nevada will work with Territories to assist with the expense as well as the hosting duties. And, as possible, will work to reduce the cost of these activities through partner contributions. Travel Nevada is unable to pay for alcohol.
Sales & Media Missions
Each year, Travel Nevada conducts and/or participates in a number of sales and media missions to identified international markets. These missions provide a cost-effective way to connect with travel professionals, influencers and the media in target regions.
The missions are generally conducted in partnership with the Las Vegas Convention and Visitors Bureau, Brand USA or Visit USA and frequently involve other members of Nevada's tourism industry.
These missions offer an ideal opportunity to showcase several experiences available to individual travelers, groups and journalists writing about the destination, as well as to offer partners opportunities to meet with leading travel agents, tour operators, airlines and media in key growth markets.
Outreach to traditional media outlets is a key avenue for educating target audiences. Travel Nevada, in partnership with its public relations agencies, Fahlgren Mortine, and Good Giant conducts a robust media relations campaign designed to promote Nevada and elevate the organization's reputation.
Travel Nevada works with its 5 international offices to develop itineraries for journalists that result in stories written and shared about the state and contribute to a lift in international travel to Nevada.
Through the agency's "Tourism Means More" integrated public relations approach, the team works with elected officials to share the importance of tourism to the state's economy.
Through direct-to-consumer social media outreach handled by Travel Nevada's marketing department, Travel Nevada harnesses the power of peer-to-peer conversation, recommendations and opportunities for changes. Travel Nevada conducts ongoing social media outreach on its owned accounts as well as drives and participates in conversations on travel and lifestyle digital channels.